Beautiful faces and beautiful smiles!
A broad, beautiful smile that you can be proud of is an obvious benefit of orthodontic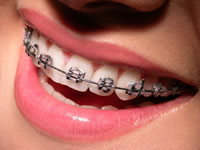 treatment. People who are happy with their smile are more confident with themselves and those around them. It is no wonder that parents want to provide their children with the best chances of success and that adults seek treatment for personal and business reasons.
But beyond the cosmetic advantages of straight teeth, there are important health benefits as well:
Straight teeth are less prone to decay or periodontal (gum) disease
Straight teeth have a lower risk of injury.
They are easier to keep clean.
Misaligned teeth can also cause abnormal wear of tooth surfaces.
Misaligned teeth can lead to chronic headaches or pain in the face or neck.
Early Treatment is key!
Treatment of orthodontic problems can begin as early as age of 7. Early prevention may be less costly than the dental care required to treat more serious problems that can develop in later years. For this reason, it is recommended that all children should undergo an orthodontic evaluation by age 7. Why age 7? This is when the first molars and incisors usually erupt, establishing the bite.
During this time, Dr.Vo can monitor growth and development and begin treatment when it is ideal.
Some of the most direct results of early treatment are:
Creating room for crowded, erupting teeth
Creating facial symmetry through influencing jaw growth
Reducing the risk of trauma to protruding front teeth
Guiding permanent teeth into a more favorable position
Reducing the need for tooth removal
Reducing treatment time with braces
Correcting harmful oral habits
Improving appearance and self-esteem
Improving the way lips meet
Damon Braces
Fast treatment time, Outstanding comfort & Extraordinary results!
With Damon braces you get more than straight teeth. You can say goodbye to the pain, time and discomfort associated with traditional braces.
What makes the Damon System different?
Tie-less braces that cause less pain. They don't need to be "tightened" and are gentle to your teeth and tissues
Outstanding comfort
Faster Treatment time.
High-Technology, memory-shape wires that move teeth quickly and require fewer visits
A clinically proven treatment approach that does not require extractions or palatal expanders, in most cases
<;
Damon braces do not use traditional elastic ties which means no more lengthy and painful tightening appointments. By eliminating elastics, the Damon system reduces the friction and pressure associated with regular braces. And without the elastic ties, the Damon braces are easier to clean and result in less plaque build up. Damon braces require fewer tooth extractions than regular braces. This results in a more natural looking smile with less pain.
Invisalign
Reveal your inner smile without braces!
Consider Invisalign® to get the beautiful straight teeth you've always wanted — without braces. Invisalign is clear, removable and comfortable. A complimentary consultation can determine if Invisalign® is right for you.
What is it?
Invisalign® uses a series of nearly invisible, removable, and comfortable aligners that no one can tell you're wearing. So, you can smile more during treatment as well as after. Invisalign® has been proven effective for mild to moderate orthodontic problems.
Why would I want it?
Not only are the aligners invisible, they are removable, so you can eat and drink what you want while in treatment. Plus, brushing and flossing are no problem. These aligners are also comfortable, with no metal to cause mouth abrasions during treatment. No metal and no wires usually means you spend less time in your doctor's office getting adjustments.
The big catch is not everyone is suitable for Invisalign® treatment – depending on what you want to have done to your teeth and how difficult it will be to achieve that result. We will discuss this more with you at your consultation appointment.
How does it work?
You wear each set of aligners for about 2 to 3 weeks, removing them only to eat, drink, brush, and floss. As you replace each aligner with the next in the series, your teeth will move — little by little, week by week — until they have straightened to the final ideal position.